If you are heading a career in B2B marketing, constant learning and reading habit can turn out to be part and parcel of your career growth. In this regard, marketing executives and leaders must carve out time to read out useful books that help you discover some of the smartest marketing moves.
Over the months, I have seen books worth of content and digital marketing. But, some books sound very useful for the head and heart of enthusiastic marketers.
Here is a collection of top ten books from authors who are constantly making waves in the marketing industry by creating helpful content for B2B marketing strategists around the globe. 
1- FULL FUNNEL MARKETING BY MATT HEINZ
Full Funnel Marketing is written by award-winning blogger Matt Heinz. The book is a terrific guide to lead management. Also, it gives the reader an in-depth understanding of the concepts of lead generation, leads nurturing, and lead conversion. The book is a roadmap for B2B and B2C marketers for improving their lead management strategies. 
2- WELCOME TO THE FUNNEL BY JASON MILLER
The author of this book is Jason Miller. He is a content marketing leader and a writer of famous book Rock n Roll photographer. He has described the most important and proven content marketing tricks in the book including impressive statistics. Miller adds interesting pictures and images along with significant content marketing information. The book is a practical guide for employing B2B content marketing strategy and social media tactics effectively.
3- IMPOSSIBLE TO IGNORE BY CARMEN SIMON
Impossible to Ignore is a creative piece of marketing art filled with research-based techniques. The book states how to stand out in the crowded marketplace and rise above the noise of online marketing. The author Carmen Simon helps B2B marketers on how to run influential marketing campaigns and deliver effective marketing and business presentations.
4- HACKING MARKETING BY SCOTT BRINKER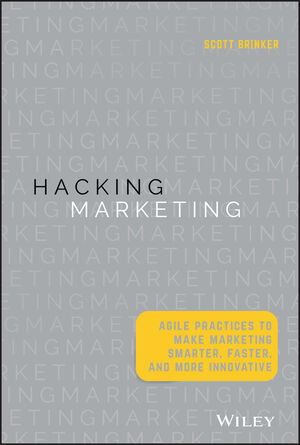 The author Scott Brinker is a visionary marketer who brought us ground-breaking solutions to the current fast-paced marketing environment. The book explains how to find a balance with a fast, data-centric, and high-tech marketing culture with modern tools and tactics. The book is a turn-key solution for all the high-tech marketing challenges and chaos. 
5- THE BIG DATA-DRIVEN BUSINESS BY SEAN CALLAHAN & RUSSELL GLASS
This book is a product of two authors Sean Callahan and Russell Glass. It reveals the fact that data is a king in B2B marketing success. Enormous data allows reaching the target better and make smarter decisions. Reading this book will tell you:
How data is going to transform the B2B and B2C industries worldwide.
The best use of technology to reach data and further use it for conversion.
Case-studies of data losers and winners and many more.
6- DRIVING DEMAND BY CARLOS HIDALGO
In this book, Carlos Hidalgo pinpoints the obstacles standing between the success and failure of B2B marketing. The book sheds light on efficient strategies for applying change management into an organization. The contents of the book contain case studies, exercises, and a clear roadmap on how to drive B2B marketing demand and efficiently communicate with customers.
7- CONTENT INC. BY JOE PULLIZI
Joe Pullizi, the founder of content marketing institute, educates the readers on how to make the audience love your product. In this regard, he explains the content marketing tricks and tactics that lays the foundation for your strong B2B brand image. The book is vital for B2B marketers in building a digital brand through content marketing strategies.   
Besides, Joe Pullizi has carved out six-step of business building. These steps are simple, smart, practical, and cost-effective. The book contains practical advice and effective techniques for entrepreneurship, content marketing, and B2B brand building.  
8- ALIGNED TO ACHIEVE BY TRACY EILER & ANDREA AUSTIN
The book is an excellent guide on how to build a dream team of marketing and sales. Smart, practical explanations, tips, case studies, and dozens of corporate examples lead you to take particular actions over theory. The authors Andrea and Tracy address the old-age problem of marketing and sales misalignment and how to solve it effectively. Reading the book will help you to:
Understand the damage of misalignment between marketing and sales.
Discover driving forces behind marketing and sales misalignment.
Explore the Benefits of marketing and sales unity regarding revenue, growth, and productivity.
Find Strategies that can improve your technology, leadership, process, and culture to support and initiate alignment between marketing and sales.
Identify the areas to modify marketing and sales programs for starting cooperation and collaboration between sales and marketing departments.
Determine how other organizations are uniting their marketing and sales team into a great workforce for business growth and development.
9- PRE-SUASION BY ROBERT CIALDINI
After all, marketing is all about persuasion and leading your audience to take the desired action. The author Robert Cialdini, the social psychologist, sheds light on the benefits and key techniques of effective persuasion. He said persuasion does not only lie in the message but the timing, determining the right approach, knowing your right objective, incorporating a hook in your message, and choosing the right audience together is crucial in the success of marketing campaigns.
In this context, the author has revealed some scientific techniques to improve the persuader mindset in delivering effective persuasion messages. Also, he illustrates how to exercise effective persuasion techniques to get your marketing campaigns successful.
The book is highly valuable in polishing your marketing skills as well as your persuasion skills. It can be helpful for one's career and personal life.
10- THE POWER OF VISUAL STORYTELLING BY JESSICA GIOGLIO & EKATERINA WALTER
The power of visual storytelling is filled with thought-provoking examples and colorful images. The authors Jessica Gioglio and Ekaterina Walter explain that attention and visual storytelling is a new commodity in the digital marketing world. Furthermore, they guide how B2B marketers utilize rich media, presentations, infographics, videos, and photos to arrest the attention of their target audience.
The book delivers an excellent roadmap concerning how to align your social media, content marketing, and infographics effectively to make your brand stand out in the crowd.
Overall, these books will work as life-blood for your career. Don't miss out on these books because "Leaders are Readers" (Harry S. Truman). I would suggest selecting the book that compliments your situation and career then take the necessary steps towards the implementation. You will see the considerable difference between your past and current successes.